Solo Ski Holidays Guide
The definitive guide to Singles Ski Holidays in 2023.
There has been an explosion in the popularity of solo holidays in the past few years. The modern "gig economy" has led to a lot of people who have time off and money to burn but not at the same time as their friends. Cheap air travel and specialist solo travel companies mean it's easier than ever to hop on a plane in the morning and be skiing that afternoon. With this in mind let's take a look at this solo ski holidays guide and see exactly what it has to offer.
In this article: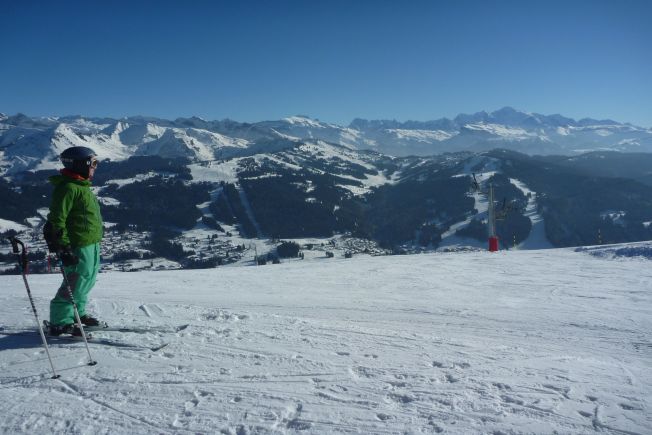 What is a Solo / Singles Ski Holiday?
I guess the first thing to understand is they are not a dating holiday! Solo ski/snowboard holidays are essentially a great way of finding a ready made group of like-minded people to go skiing with. The next thing to understand is: yes, snowboarders are welcome too. With that out of the way lets continue.
Depending on what you choose your holiday is usually about a week long and you will be staying in a chalet or small hotel. You can have either a room to yourself or share a room with a person or people you have not met before. Most companies who offer solo holidays also allow for friends, couples and other such groups to come along so it may not be strictly all solos and singles.
Some of these holidays are more a combination of a course and a holiday. Fore example beginners ski holidays, snowboard camps and off-piste ski holidays will combine the holiday side of things with lessons and guiding.
Who Goes On Solo Ski Holidays?
Group Skiers
These people are here because the love the social group nature of skiing. A ready made group of skiers / snowboarders at a similar level, all out exploring together is their ideal. Solo holidays really come into their own for these people, especially where there normal group no longer skis or has ended up all different levels.
This tends to be the majority of people on solo ski and snowboard holidays. People who for whatever reason cant go with their usual social group and so head off on their own to meet a new group.
Lone Riders
For these people its all about the mountain. They just want to get time on the snow and the fact that they are alone doesn't bother them. They can clock up serious miles each day and be in bed early each night meaning they are well rested for the next days skiing. These people tend to be experienced skiers who know what they want from a holiday.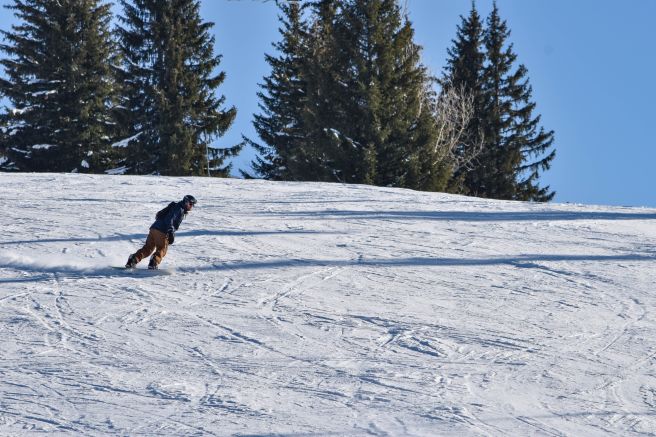 These people like to join the group in the evening, someone to swap stories with and shares tips on the best runs to explore, but they are more than happy to ski alone.
Beginners and Up-skillers
These people are either absolute beginners or have already been skiing and are now looking to improve their abilities. A lot of the time they already have a social group they ski with but find themselves falling behind and so want to build up more experience. They also may have a friend or partner who skies and they do not and so they want to learn on a holiday on their own so they can join them.
Second Holidayers
These people are basically getting in a nice cheeky second ski holiday this season after going with their main group earlier in the season. They have the time but their friends or family cant make it so they head off alone. They are usually experienced skiers and love to get on the mountain whenever they can.
Ski Fanatics
The serious advanced skiers and enthusiastic skier/boarder who want to make the most of your time on the slopes. They will be thinking of a full day's skiing as their top priority. The hot tub, the pool, the sauna and the supreme local cuisine, they're all an added bonus.
Single Parents
For those that might feel uncomfortable sharing the slopes with two-parent families, comes the single-parent ski holiday. They can enjoy their time with like-minded people on and off the slopes, while their children make fast friends with kids their own age.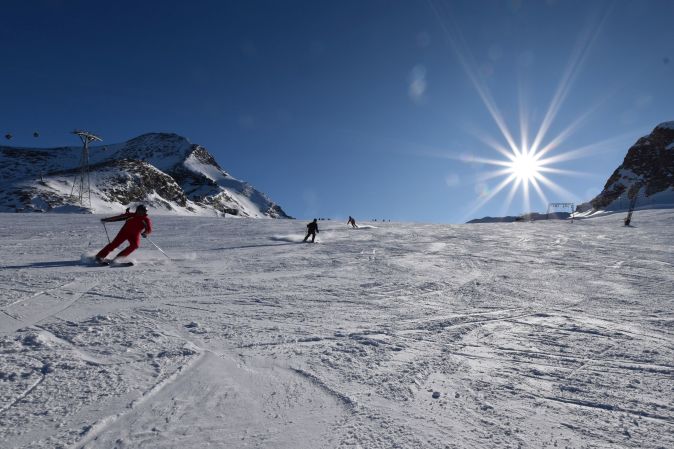 What age ranges do they appeal too?
Most single skier weeks are restricted to adults only, but apart from that you'll find the full range from 18 to 80. Some companies will focus more at different age categories or provide age-specific weeks, though the generate consensus is that it's one of the pleasures of these types of holidays getting to ski with people from all walks of life and at all age ranges.
Fears
Most people have two basic fears about the ages of people on these holidays:
Young people are worried it will be a load of old fuddy-duddys, who ski at one mile an hour and are in bed by 7pm each evening.
Older people are worried it will be a complete party chalet filled with half naked 18-25 year olds, drinking and playing loud music till all hours of the evening.
We have never found either fear to have weight. With a full age range of people joining most holidays there tends to be an excellent balance of wonderful people and personalities from all ages and walks of life.
Most specialist solo holiday companies will usually ask about people's age range when they book. This is primarily so they have an idea of who is coming on their holiday and can tell the other guests.
Will there be anyone at my level?
This is a question we get a lot, and a very valid one too! There's no point coming to join a ski group, to find out you are the only person at your level there! Most companies will ask a little about you on booking, like age range and skiing experience, so when booking you can get an idea of the level of the group you'll be joining
Another option here is to join a specialist week. Many companies offer these specialist weeks, such as beginners holidays, intermediates holidays, guided weeks, off-piste courses, snowboard camps and more. Joining a week that's tailored to your level is a way to guarantee that everyone will be of the same ability as yourself.
That said, most groups being 10 - 20 people in size. Unless you are a retired pro racer, it's pretty unlikely you'd be the only person at your level.
Why do people go on Solo / Singles Ski Holiday?
There is a wide variety of reasons why people go on solo ski and board holidays but if we had to highlight the biggest reasons are time, matching ability level, social scene and value.
Most people follow the same path when starting to ski / snowboard - they get invited on a ski holiday by family and friends, then get addicted, but what to do when it just doesn't work to join the regular group this year, how will I get my snow-fix?!
1. Time
The biggest reason people pick to go solo is time. The regular group cannot go this year, or their holidays and commitments just don't match up. Perhaps they are shift workers and all their friends are 9-5'ers or maybe they are retired and their regular group is still working. Either way time is the main driver.
There's also a cohort who pick these trips for that second ski holiday. The regular group goes only once a year, and that's just not enough...
2. Ability Level
This is perhaps the second biggest driver in the growth of solo skiers holidays. Kids grow up, groups diverge in levels, until the day when half the party feel dragged along and the other half held back. Answer: join a social ski week like this where everyone go go off people at their own level, then meet up at the end of the day to share stories.
Or maybe you've always wanted to learn to off-piste, but none of your group would be interested in that. Answer: a solos off-piste course.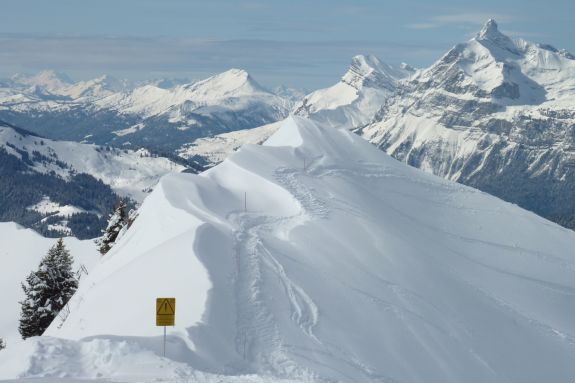 3. Social Scene
In at number 3 would be social scene. Often where the regular group has dwindled and now there's just 2 or 3 members who can go, who'd really rather ski as part of a larger group. Groups of 2 and 3 are common on these types of trips, including couples, grown-up families and small groups of friends.
4. Value
Skiing isn't the cheapest holiday, and less so if you've a giant single supplement to pay. These holiday allow solo travellers to share a room, and so give much better value. If value is the biggest thing to you, look out for providers who offer triple or quad rooms, which can be some of the cheapest ways to get a week's skiing in the Alps.
Who Provides Solo Ski and Board Holidays
There are numerous places you can go to find a solo ski holiday, from large ski holiday operators and specialist solo ski holiday companies to Facebook groups and forums there are options for everybody. Lest take a deep dive into exactly whats available...
Large Ski Holiday Operators
Most of the large ski holiday operators advertise "solo ski holidays" in some form or another. These trips tend to just be their normal holidays and are not specifically for solos. Basically a bed in a room or on a normal chalet or hotel holiday. Examples of large operators who promote solo and singles holidays are: Crystal, Sno, Inghams and Neilson.
A lot of the larger operators will charge a significant "solo occupancy" supplement which coupled with the lack of a built in social scene makes them less than attractive to solo skiers. For this reason we will not be going into detail about them here.
Solo Ski Holiday Companies
The Ski Gathering
The Ski Gathering (formerly Piste Pals) is one of the longest running solo/specialist ski holiday companies. It is run by a collective of small family run chalet and hotel operators. They provide a tailor made experience for solo skiers and boarders in various locations in France and Austria. The Ski Gathering tends to attract a broad age range but don't allow under 18's. See their website
Cold Fusion
Cold Fusion is a well established company specialising in solo/specialist ski holidays. It is run by Steve and Nicky and has locations in the French and Italian Alps. With excellent reviews across the board and a loyal following these guys are sure to put on a great holiday for the solo skier and boarder. See their website
The Hofnar Experience
The Hofnar Experience is run by Daniel in Morzine is another well established solo ski holiday company. They tend to attract a slightly younger clientèle and have a more "party" atmosphere than the previous two. With five star reviews all round and a dedicated following of guests they are a great bet for a fun holiday on the snow. See their website
Singles Ski
Single Ski is run by Mark and tends to cater more to the American solo skier and boarders market. They have locations in Colorado, Montana, Wyoming and California with a variety price points to suit everyone. With lots of repeat customers and a great selection of world class resorts they are a excellent choice for North American based solo skiers and boarders. See their website
Forums, Clubs and Groups
An alternative to solo ski holiday companies is to join a group through a club or forum. These trips tend to happen in a more organic way and so a lot of the time it is up to you to organise your own travel arrangements. This doesn't make them any less fun as what they lack in organisation they make up for in good times. Lets take a look....
Snow Heads
Snowheads is one of the biggest snow-sports forums in the english speaking world. Their "Snowheads Bashs" are famous for bringing large groups of solo skiers and boarders together. Outside of the organised Bashes there are plenty of people on here looking for others to go skiing with. Use the search function to find what you are looking for. See their website
Billy Snow Mates
One of the biggest and most popular Facebook groups for boarders and skiers looking for people to ride with. They are primarily focused on snowboarding but skiers are welcome too. Their famous "Billy Bashs" are legendary for the crowd they draw and the locations they visit. They also have smaller trips set up buy individual members and groups. Join the Facebook Group. See their Website
Go Snow App
The Go Snow app is a little like Tinder for snow people but without the dating aspect. If you are heading out for the day you can see other people in your area and connect with them. Its "Riding Now" feature even allows you to see people who are on the mountain close to you. It also allows you to find instructors, guides lift passes and events in resort. See their website
Ski Club Great Britain
The Ski Club of Great Britain has long offer an excellent way for keen skiers to meet up and enjoy the slopes together. Their holidays are categorised based on age and ability so you are sure to be on the snow with people of similar interests. Their skills holidays are also an excellent way of building up your ability. See their website
Ski Pals
Ski Pals is a long running forum website where you can post where users can post where they are going skiing and see if anyone would like to join them. See their website
UCPA
UCPA is a French organisation whose mission is provide affordable adventure sports holidays for young people. Their "Centres" provide budget accommodation at a good price in multiple resorts in France. If you are looking for a no frills ski holiday and want to meet new people then this is an excellent way to go. They also provide courses for expanding your abilities. See their website
TSA Shred Weeks
This one is pretty much exclusively for snowboarders. TSA (The Snowboard Asylum) is one a largest snowboarding gear retailers in the UK. They put on "Shred Weeks" weeks each year. During these weeks you can join loads of other boarders for shredding, events, gear tests, parties and more. Sounds like epic fun! See their website
Choosing a resort for Solo Ski/Snowboard Holidays
When choosing a resort for solo/ singles holidays there are a number of factors to consider: Resort size, connections to other resorts, airport transfer length, resort type (concrete tower blocks or quaint village) just to name a few.
Social Scene
We would recommend you avoid the rack-em-n-stack-em tower block resorts. They tend to be a little less welcoming for the solo skier and boarder. Much better is to choose the well established village and town style resorts where there is a defined centre and social scene. Individual travellers will find these resorts far more open and a little easier to strike up conversations with people.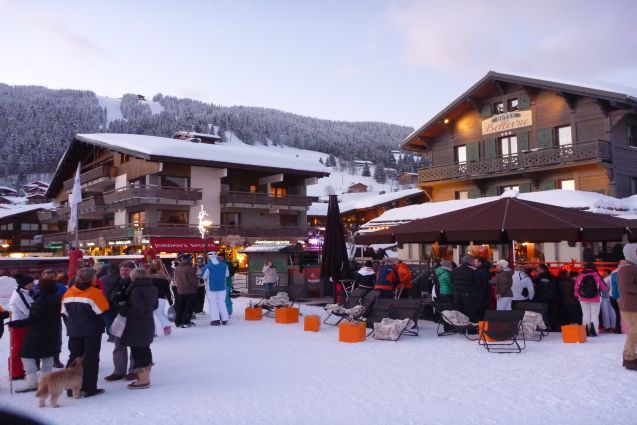 Resort Size
This one is a little harder to answer. Some would say its best to have as big a resort as possible but other are happy to go around the same small resort for their entire holiday. We would say its good to have the option for both. Find a nice sized resort that you will not get bored of that has access to other resorts for those day when you wish to go exploring.
Distance from airport
This is a big one! Having a long airport transfer when you land can be the difference between skiing for 7 days of you holiday and skiing for 5 days. Flying to a well connected airport that is no more than 2-3 hours from your resort is a must. With many excellent resorts within 1-12 hours from a large well connected airport its a no-brainer. Another important factor is to make sure you can you get airport transfers for one person at a reasonable price.
Beginner Friendly?
If you are new to skiing or still finding your feet then choosing a resort that is beginner friendly is a must. Some resorts are better than others for beginners. Resorts with lots of gentle learning slopes close to the village centre are better than resorts that require you to temperamental drag lift up a steep slope just to get to the learning area. This is especially true if you need to change your gear as a short hike back to the hire shop is better than a long one!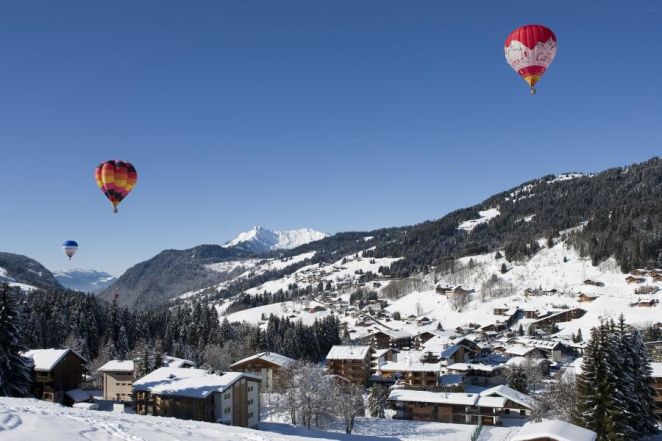 Types Of Solo and Singles Ski Holidays
There are a number of different variations under the umbrella of "solo ski holidays". These are primarily based around the categories of age, ability or specialisation. Some of these holidays include a course aimed at enhancing your abilities. Lets take a look at these.
Standard solo ski and snowboard holidays
This is the holiday most solo skiers and board go on. Its described in detail though this article so no need to go dep on it here. Suffice to say its a holiday geared specifically towards solos and singles.
Age Based Holidays
Age restricted ski holidays have proven quite popular. Almost all the solo ski holiday operators have a strict adults only (18+) policy on almost all their holidays. This is to ensure the people you holiday with are around the same age as you. You will also find dedicated over 40s and over 50s ski holidays available from the specialist solo ski holiday operators.
Ability Based Holidays
Restrictions on holidays based on ability are proving quite popular too. For beginners ski holidays and snowboard camps its all about being with a group of people who are learning too. At the other end of the scale is the off-piste ski holidays. These are all about learning to off-piste with other solo travellers.
In between those you have the intermediate ski holidays which are primarily aimed at those people who are happy to cruise blues and red and don't want to be held up by a complete beginner or don't want to be left behind by people flying down black slopes at top speed. Finally you have guided ski holidays which are for those who are looking for an adventure and want to really explore a resort. These are aim at competent red runners who are not afraid of putting some serious distance down each day.
Other Specialist Holidays
Apart from the above you will find holidays based on the time of year such as Christmas ski holidays which are great for those who want to escape the christmas crazy period and relax in the snow. There is also single-parents ski holidays for whatever reason wishes to bring their child skiing and their partner cant go. You will also find holidays based on skiing with yoga, snowboard only, back-country safari and much more.
Tips for your Solo Ski Holiday
Here we have some tips and advice on going on your first solo ski holiday.
Say Hello
Most people on solo holidays are in the same boat. They don't know the other people but they are usually keen to chat. So, just say hello. :-)
Resort Choice
Choose a resort that suits you. Resort choice can make or break your holiday so choose well. We have a complete guide to choosing your resort above.
Take A Lesson
If you are still new to skiing then it may be a good idea to take a lesson or two on your holiday. These help to refresh you on the basics before heading out alone.
Après Ski
Hit the Après Ski. As far as social scenes on ski holidays goes this is where it's at.
Get there early on the first day
If you arrive early on your first day then you can usually get some skiing or boarding in.
Make a group plan for each day
If you are with a group then make a plan. With a plan you can go off on your own for a while then meet the group later on.
Resort map
Grab a resort map. They are available in paper, a PDF download or on a nice app. This helps you make a plan and know where you are in the resort.
Get the company to book the extras
Holiday extras such as lift passes, ski hire, ski lessons and airport transfers are usually bookable at no extra cost through the chalet company. The advantage of this is you have a single people of contact and its all arranged for you once you get in resort. Even if you don't book through the holiday company be sure to book in advance as the price in resort is usually significantly more than online.
Get Travel Insurance
Skiing and board is fun but accidents do happen and even the most benign injury may require a helicopter off the mountain. These are not cheap so be sure to have your travel insurance all set up.
Handy Packing List
Getting Organised
Passport (check expiry)
Ski Insurance and EHIC
Tickets & Boarding Passes
Currency (Euros)
Sunblock and Lip Balm
Swim-wear (some chalets have hot tubs & saunas)
Phone Chargers & Travel Adaptors
Any Medication (e.g. travel sickness)
For the Mountain
Ski Jacket
Salopettes (ski trousers)
Ski Goggles
Waterproof Ski Gloves
Thermals & Mid-Layers
Balaclava and Woolly Hat
Thick Ski Socks
Ski Helmet (can be hired)
Any questions, about anything at all?
Just ask! We are always only too happy to help, so what you would like to ask please do just get in touch.
Last Updated: 9 February 2021