The improver's guide to buying ski equipment & clothing
In this article: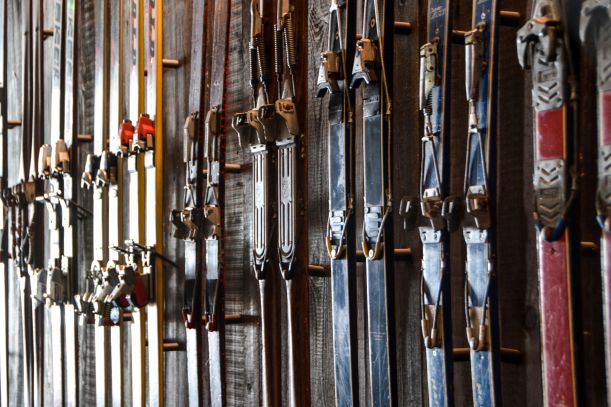 What to buy? What to borrow? What to hire?
Salopettes
Ski trousers or salopettes are now available for very reasonable prices on the high street in the UK. Even for your first ski holiday, it's probably worth getting your own. Most skiers favour insulated salopettes, but others prefer to layer-up with a base layer underneath.
Ski Jacket
Available with padded insulation or as a "hard shell" waterproof, a proper ski jacket is a must. Look for one with a "snow skirt" which fastens around your waist, and a pocket on the wrist to keep your lift pass in. Borrowing is an option, but jackets can be found locally without huge expense.
Base- & Mid-Layers
Thermals. Lots of thermals. That's the key to staying warm on the mountain. Choose breathable fabrics which "wick" moisture away from the body (avoid cotton). For mid-layers, fleece is light, warm and quick-drying enough to be washed and dried over night. Borrow if you must, buy if you can.
Ski Goggles
There is no price limit on ski goggles. You can buy them cheaply for around £20, but if you try a more expensive set, you won't want to go back. Tip: changeable lenses allow for high-and low-visibility conditions. For a first holiday, maybe borrow some - just don't scratch them!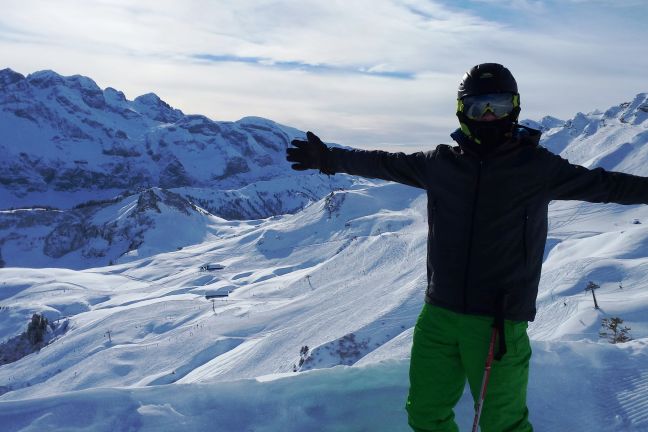 Ski Gloves
You will need specialist ski gloves: repurposing general-use gloves is not advised. The most important factors are waterproofing and insulation; beyond that, you don't need to spend a fortune. If they attach to your wrists, there's much less chance of losing one on a chairlift...
Helmet & Balaclava
A good ski helmet is strongly recommended on groomed terrain, a must for those venturing off-piste. Ski helmets can be hired for around €10-15 per week, or bought for twice that in the UK. If you're investing, look out for a camera attachment in case you buy a GoPro in years to come.
Ski Socks or Tubes
Long, warm, seamless socks are essential if you are to be comfortable on the mountain. This is especially true for skiers, whose feet are locked up tightly in hard boots all day every day. Breathability and padding are factors to be considered, but can push the price up a bit.
Skis or Snowboard
Transporting your own equipment is cheaper than hiring, and it's certainly nice to have your own equipment to match you precise needs. For a first holiday, this certainly won't be necessary: hired equipment is generally very well maintained and can be upgraded day-to-day as conditions change.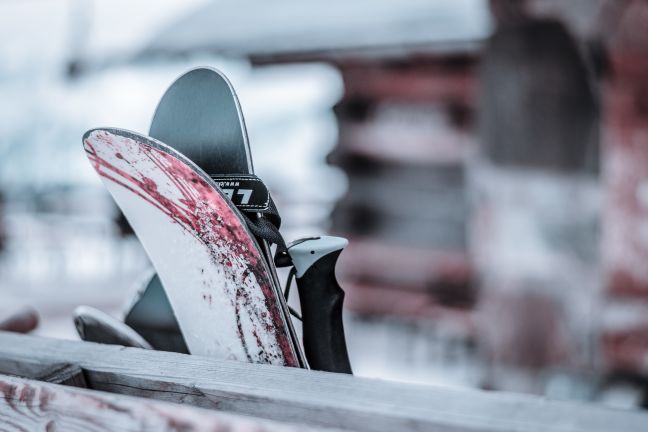 Wrist Guards
Wrist guards are essential for snowboarders only, for whom falling onto your hands is an inevitability. Boarders also commonly buy padded under garments (falling backwards is no less inevitable). These items can be bought in specialist snowsports stores in the UK, or in resort.
UK Snowsports Specialists and Suppliers
The UK has some fantastic independent snowsports specialists - ideal if you're planning on getting kitted out before this year's ski holiday. After all, who wants to spend the first morning of their ski holiday trying things on when you can be blazing a trail on the mountain?
Established in 2001, Coyoti was set up with the aim of providing the best products, knowledge and customer service for ski enthusiasts online and within the South Wales area. An Aladdin's cave of quality ski gear.
Online Shop
Snowsports Specialists
Boot Fitting Experts
Visit Supplier Website
The Best of the Rest
Ski Goggles
Wide range of ski gear including ski goggles, hats, jacket, pants and sunglasses.
http://www.chelstondirect.com/ski-goggles/
Cheap Skis
SkiHeart.com: we search the web for some of the best deals on ski and snowboard gear. Shop here before you buy.
http://www.skiheart.com/
Glisshop the ski and snowboard expert
Buy your skis and snowboards on our online shop. One of the widest selection of winter gears and clothing for the lowest prices on the web.
http://www.glisshop.co.uk/
Outdoor Sports and Leisure Directory
This outdoor sport and leisure directory has links to all kinds of outdoor activities including climbing, walking, golf horse riding, skiing, scuba diving, cycling and many more.
http://www.outdoor-sport-leisure.net/
Ski and snowboard rental in Andorra
Pic Negre, Rental and Shop Ski, snowboard, bikes, 16 shops across all the ski stations in Andorra
http://www.picnegre.com/
Adventurexchange ski helmets
Locate ski partners worldwide and buy ski / snowboard helmets and travel gear
http://www.adventureexchange.com/shop/7/45/index.htm
Snowear Winter Clothing
Based in Tunbridge Wells Kent, Snowear specialise in clothing and accessories for skiing and all other winter activities.
http://www.snowear.co.uk/
Any questions, about anything at all?
Just ask! We are always only too happy to help, so what you would like to ask please do just get in touch.